2023 Bo Collins Scholarship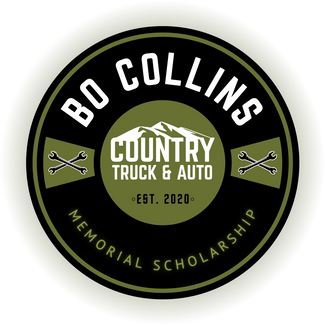 There will be two $500.00 and one $1,000.00 scholarships awarded to three qualifying high school students graduating in the Spring of 2023.
Applicant Eligibility Requirements:
Must be a Senior that is currently enrolled in public, private, or on-line school or may be home schooled
Must be an upcoming, first year higher education student
Must be enrolled in or planning to enroll in an Automotive Vocational or Automotive Technical School
Must have a current cumulative grade point average (GPA) of 2.0 or higher
Must complete the application in full
Must provide at least one letter of recommendation from a pastor, employer, teacher, principal, coach, etc.
Scholarship Pay Out:
Scholarships will be paid out directly to the Automotive Vocational or Automotive Technical school of the recipients' choice. Student must provide proof of registration from the school.
Please click below to download the application.
Please email completed applications to marketing@countrytruck.net. You may also drop off or mail completed applications to any of the following locations:

APPLICATIONS MUST BE RECEIVED BY APRIL 14th, 2023
Congratulations to our 2022 winners!